Kuraray believes in growing as a sustainable company for the future. In doing so, we place a high priority on investing our own profits back into research and development to not only create new products, but also to improve upon those that exist. Kuraray does more than just produce products that revolutionize and transform our current business, we make products that meet and exceed the demands of the future—to achieve what no one else can.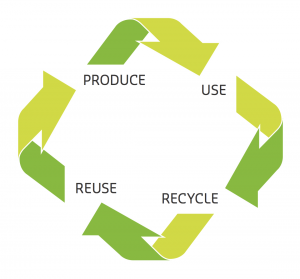 Kuraray is already leading the way in the barrier bio-polymer field with our product, PLANTIC™. Made from cornstarch, PLANTIC™ uses 25% less energy, 40-70% less greenhouse gases, and reduces carbon emissions, while still maintaining superior barrier properties. This product not only comes from a plant-derived process, but also eliminates food waste with its superior barrier properties—making many perishable foods last longer. Read more about Plantic in application.
Along with PLANTIC™, Kuraray has formulated Liquid Rubber and HSFC materials using a renewable monomer called Farnesene. Farnesene is derived from sugar alcohols, and replaces oil-based feedstocks that are traditionally used in the creation of elastomers. You can find these sugar-based products in specialty adhesives, in rubber materials like tires, and in many applications where traditional hydrogenated styrenic block copolymers are used.
Beyond our plant-derived polymer portfolio, many of our traditionally manufactured materials are making a positive impact on the world too. Various food-packaging applications use our EVAL™ copolymer. From meat, to shredded cheese, to baby food—EVAL™ reduces food waste by preventing oxygen from penetrating the package and limits environmental impact by reducing the thickness of the packaging. Read more about the ways in which EVAL™ is protecting more than just products. And our PVOH product EXCEVAL™, is helping Brand owners and converters with innovative and sustainable green packaging solutions with full barrier capabilities.
Maintaining the health and safety of our workplace and our people is of vital importance to Kuraray. We are working every day to minimize risks for our employees, the environment and our surrounding communities. These products and efforts are just a small piece in our sustainability strategy. We give back to our communities by providing jobs, using local suppliers and operators, and supporting community activities and development. Striving to be a responsible corporate citizen, Kuraray employees volunteer countless hours each year towards environmental causes. These events include cleaning our waterways to make our planet and community a better place to live.
Kuraray is committed to being a sustainable company. Our people, along with our products, strive to enhance the quality of life throughout the world.